Finlandia celebrates their 100th Anniversary with wine and beer glasses sculpted from Gruyere cheese!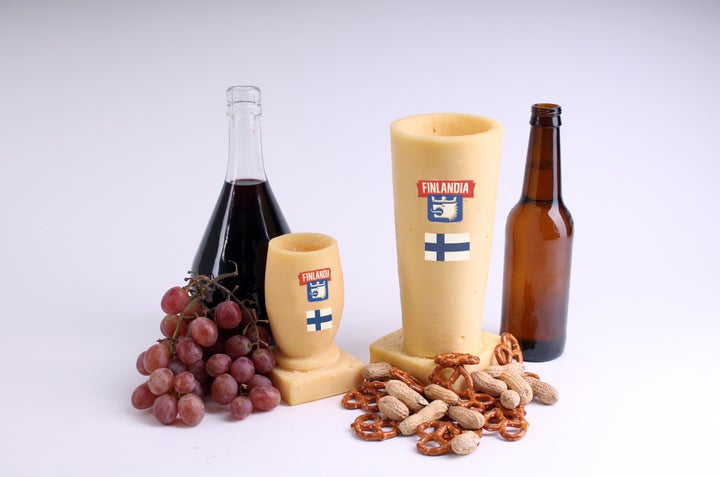 https://m.huffpost.com/us/entry/us_5a21d7cde4b03c44072da4d2
https://www.huffingtonpost.com/entry/finlandia-wine-beer-cheese-glasses_us_5a21d7cde4b03c44072da4d2
https://www.metro.us/things-to-do/philadelphia/wine-beer-glasses-made-of-cheese-finlandia
https://www.cincinnati.com/story/entertainment/2017/12/01/5-000-beer-glasses-made-cheese-5-000-beer-glasses-made-cheese-wine-glasses-too/914447001/
Mariota is a Natural Pitch Man
Marcus Mariota became a Subway "famous fan" on Wednesday,
complete with a bust made of bread and vegetables.
(Photo by Denis Oda, oda@staradvertiser.com)
By Ferd Lewis
Star Advertiser
April 23.2015
Forget what the ESPN analysts say about Marcus Mariota's inexperience taking the snap from center, on this day it was the Swiss cheese that was baffling.
"The (cheese) pieces are sticking together," Mariota sighed as he grappled with trying to separate them.
Less than a minute into his first shift as a celebrity sandwich artist for his latest national sponsor, Subway, Mariota was struggling.
One more reason that next week's NFL Draft can't come soon enough for the Heisman Trophy winner from Saint Louis School.
Realizing that a $20 million-$25 million contract from some team awaits Mariota after his April 30 selection, it was a regular Subway employee, Lelean Sigrah, who adroitly wielded the knife for him at the chain's Beachwalk restaurant Wednesday.
When it comes to sandwich artistry, "I've made peanut butter and jelly for myself, but that's about it," Mariota acknowledged.
Nevertheless he persisted to make a sandwich for two youngsters from the Juvenile Diabetes Research Foundation and one for his grandmother, Alice Deppe, but declined to say if he could whip up one of crab for Jameis Winston, if asked.
That a noon-time crowd, sometimes three and four deep, pressed their faces and Mariota jerseys to the glass front window or stood on outdoor chairs to watch him fold Black Forest ham slices and slather avocado and tuna on bread underlined his attractiveness for endorsement deals.
Before he launches an NFL pass, Mariota is already big league in endorsements, call it Market Mariota.
He has a Nike deal, is said to be on the way to several more, and is setting up a charitable foundation.
Mariota has two sets of agents, one California-based firm, Rep1 Sports, to handle football-related matters such as his player contract, and another in New York, Excel Sports Management, to direct endorsements.
Mariota's New York agent, Alan Zucker, has a client roster that includes the Mannings (Peyton, Eli and Archie), Danica Patrick and Taylor Swift.
So there is probably little chance Mariota will take up owner Angus McKibbin on his offer to come pull a night shift or two until the draft starts.
"We've had a laser focus on Marcus," said Paul J. Bamundo, Global Director of Sports Marketing and Strategic Partnerships for Subway, citing Mariota's football potential, wholesomeness and the fact he regularly ate their product as a student at the University of Oregon.
So intent was Subway on adding Mariota to its "famous fan" roster that includes Robert Griffin III, Russell Westbrook and Mike Trout, Bamundo said, "I told Alan, 'I want to figure this out with you and Marcus and we want to be first out of the gate (as a non-industry sponsor).'"
Bamundo said, "Once we found out Marcus wasn't going to Chicago (for the draft) or New York and was going to stay home to be with family, we told them, 'don't worry about it, we'll come to you there in Hawaii."'
So, Wednesday morning the company was at the Mariota family's doorstep, breakfast sandwiches in hand, before the commercial shoot and press conference.
In honor of the occasion, Subway commissioned and flew in two Philadelphia based food artists, Jim Victor and Marie Pelton, to craft a 3foot high sculpture of Mariota in the company's food items, complete with flatbread head.
"I never imagined I'd see myself in avocado (skins) for hair and bell peppers for ears," Mariota marveled.
Yes, it is definitely a new world that Mariota has entered.
---
He plays with his food: Middletown native went from struggling artist to edible art guru
Published Date Tuesday, 22 January 2013 14:24
By Daniel Walmer
Press and Journal staff
Middletown Press and Journal
Nationally known artist and Middletown native Jim Victor's sculptures provide a lot of food for thought.
Cuisine is Victor's artistic medium—from the Pennsylvania Farm Show butter sculptures to chocolate portraits and fruit and veggie creations—and in the world of edible art, he's a big deal.
In addition to creating the Farm Show's annual thousand-pound display of Pennsylvania produce in butter form, Victor sculpts for companies like Subway. He recently completed a national media tour in New York City with Washington Redskins quarterback Robert Griffin III showcasing a portrait
of the football star made from Subway ingredients—including chicken salad, a particularly difficult challenge.
"It's popular, for one thing," he said. "It's nice to work on something where people actually want to see it."
Lisa Perrin Dubravec, senior industry image and relations man-ager for the Mid-Atlantic Dairy Association—the organization that commissions the Farm Show butter sculpture—is glad to hire an artist that is both local and nationally famous.
"He does wonderful work," Dubravec said. "He really takes our vision and manifests it into this beautiful sculpture each year."
Despite his buffet of successes, Victor still cherishes his Middletown memories.
His family moved to Middletown during World War II when his dad began working at the Olmsted Air Force Base, and he lived in several different parts of Middletown during his childhood: Pineford Acres, a house on State Street near the Susquehanna River, and a Victorian house on Water Street.
"I loved Middletown," he said. "I thought Middletown was a great place to live. I really enjoyed it."
Though his family moved away from Middletown when he was 11, Victor remembers the local haunts that facilitated his childhood adventures in exploration – places like the Army surplus junkyard on Union Street, a brickyard in Royalton, and Roundtop Mountain —and watching planes land at the
Air Force base.
An artist looking for jobs in the 1980s, Victor was commissioned to create a portrait of Andy Rooney from chocolate—and the rest is very tasty history.
Victor first got involved in butter sculpting in the 1990s.
"It's actually a pretty good medium," he said. "It models pretty well and sticks to everything. You put it on somewhere and it stays there."
While butter's temperature sensitivity can be a challenge, it allows an artist to control its consistency more than other foods, and "you kind of get that sweet spot where it's like soft clay," he said.
Still, his favorite sculpting mediums are food and cheese, for a very sensible reason—they're "fun to eat," he said.
Years of experience have trained Victor to pay particular attention to the physical qualities of food. When most people see a kiwi, they just see a fruit, perhaps one they enjoy to eat—but Victor sees something different.
"When I cut a kiwi, I always look at that and think, it looks so beautiful, it looks like the iris of an eye," he said.
And don't be fooled by their savory charm—Victor's sculptures aren't just cheap entertainment.
For Victor, they can be an opportunity to "kind of make an aesthetic statement" about the foods.
the Mid-Atlantic Dairy Association, which commissions the Farm Show sculpture each year, "it opens the door to a conversation" between attendees and the local dairy industry about the "delicious product they produce," Dubravec said.
Victor puts in the time—about 10-12 hours per day for about 12 days – to make the best possible butter sculpture for the farm show each year, down to the smallest detail, she said. He even adds a surprise to the sculpture most years, such as a honeybee on the Pennsylvania keystone logo.
Even Victor's wife and son get in on the act—Victor's wife Marie designed the 2013 Farm Show butter sculpture.
"I thought Marie did a really excellent job," he said. "There's certainly a lot in it."
"I think it's really interesting that he's taken something so unique and passed it along to family members," Dubravec said.
They say all good things must come to an end, a sad adage that is certainly true of butter sculptures. But the fact that his art only lasts temporarily does not bother Victor.
"Time is fleeting, and it's very quick," he said. "People say, 'Well, none of it lasts,' and that's true, but the photographs of it last.
---
Top NFL draft prospect Robert Griffin lll, left, reacts as food sculptor
Jim Victor describes his food statue celebrating Griffin's induction as "Famous Fan of Subway" on Tuesday, April 24, 2012, in New York. Subway unveiled the life size creation, which join a roster of famous athletes including Michael Phelps and Blake Griffin, to announce its
new Smokehouse BBQ Chicken sub made for Griffin. The statue
contains over 300 pieces of chicken with garlic for teeth and dried
chili peppers for hair. Photo: Bebeto Matthews/AP
COMMERCIAL IMAGE—In this photograph taken by AP images for SUBWAY, newest SUBWAY Famous Fan Robert Griffin lll, top prospect in the 2012 NFL Draft, poses with his life-size statue made of SUBWAY Smokehouse BBQ chicken, Tuesday April 24, 2012, in New York. The sculpture, made by artist James Victor of Conshohocken, PA, is an artistic representation of the football star from the chest up and stands approximately three feet tall. (Diane Bondareff/AP Images for SUBWAY) Photo: AP.AP
Click on the thumbnail to see the article in the paper.
From the New York Daily News:
"Why keep the bizarre in just two dimensions? Here are some of the strangest sculptures from around the globe.
Ever seen a sculpture made from nearly 1,000 pounds of butter? Well now you have! This representation of a dairy farmer pouring a glass of milk at the breakfast table with his family pays tribute to dairy farm families in a very literal way. Created by sculpture Jim Victor of Conshokocken, Pa. was crafted from butter donated by Land O' Lakes in Carlisle, Pa. and can be seen at the Pennsylvania Farm Show in Harrisburg from Jan. 9-16, 2010."
---
Article in the Sept. 22, 2008, Daily Record, of Scotland
---
His Paint is chocolate, his clay is butter.
Sculptor Jim Victor and his wife, Marie Pelton, used hundreds of pounds of butter and milk chocolate for the statue of Milton Hershey and the two cows.
All aflutter over butter
By Sandy Bauers
INQUIRER STAFF WRITER
HARRISBURG –
Spending a week in a large refrigerator carving 900 pounds of butter into two lifesize cows and the late chocolate magnate Milton Hershey is challenge enough.
But then Hershey wound up too tall. And he was facing the wrong direction. And the chocolate to coat him was two days late. What now?
No sweat for a pro such as veteran butter sculptor Jim Victor. He was still smiling last week as he scrunched himself cowside, putting a few final pats into place on the annual butter sculpture at the Pennsylvania Farm Show, which openedSaturday.
He'd lopped two inches off Hershey's shins and turned him around, and now all that remained was snagging the tardy chocolate.
With the unveiling less than 24 hours away, "it's a comedy of errors that's turned into a tragedy at this point," he said.
But as logic would suggest, tossing your lot in with butter can be a slippery business.
Victor didn't start out to be a butter sculptor. But the demand for fine-arts sculpture being what it is (or, more precisely, isn't) he took a different tack.
In the 1970s, he started making sculptural portraits of notables — Henry Kissinger, Jimmy Carter, South Philadelphia pol and felon Buddy Cianfrani (made to look like provolone and titled The Big Cheese) — for magazine illustrations.
In 1982, he received a commission to sculpt chocolate heads of Mickey Rooney and Ann Miller to celebrate their 1,000th Sugar Babies performance.
It was an inauspicious start. At the unveiling, Miller bent to look, her foot bumped a table leg, and off went the heads.
Luckily, the chocolatier happened to have some liquid chocolate and Victor had a Swiss army knife. Hours later, the repaired heads made their encore.
By now, Victor, of Conshohocken, has produced a smorgasbord of sculptures. He's made pigs, a tractor, a train, a 1957 Harley-Davidson Sportster — all out of chocolate.
He carved Terry LaBonte's Chevy from 3,500 pounds of Cheddar for a NASCAR event. A "Cheeseasaurus Rex" from 250 pounds of Kraft for a Texas festival. A Christopher Columbus
from wheels of Parmesan for a New York parade. A Santa from cream cheese and mascarpone.
Out of butter have emerged milkmaids, horses, chickens, an old milk wagon, a woman in a bikini (for Ripley's Believe It or Not) and all manner of cows.
He's heard all the puns: how he's got the technique down pat; how he's buttering up the clientele; how there's little margarine for error; how he's really churning it out. He's been called a cheese whiz and a guy who can cut the cheese.
As much as he wants to do his own wood sculptures, this is the work that pays the bills— oh, OK, it's his bread and butter.
He does have his limits, however. He insists he'll never sculpt Spam. He has to live with the smell the whole time he's sculpting and "I don't want to do meat puppets or anything like that," he said.
With Hershey, Victor was trying something new, sculpting from both butter and chocolate. He started making the steel and mesh frame before Christmas at Rosemont College. He teaches sculpture there and at the Fleisher Art Memorial in Philadelphia.
By New Year's week, he was at the Farm Show complex, where boxes of Grade AA Land O'Lakes—55 pounds each—were piled outside the official butter trailer.
"It's like traditional sculpture, really," Victor said as he sliced the butter into workable chunks and began smooshing. "It just happens that it's butter, not clay."
On the floor nearby were cow photos, a book of cow anatomy, and a small cow model.
Victor coats butter on one of two cow figures for the Farm Show/ Behind him stood the frame for the sculpture of the late chocolate magnate Milton Hershey, which would eventually bear both butter and chocolate.
Photo by Barbara L. Johnston, Inquirer Suburban Staff.
---
"You're working with dairy farmers," he explained. Experts in the bovine form, they can be frank. Once, an old-timer in Massachusetts just shook his head and said, "That's no prize winner."
Butter sculptures have been dairy promotional fixtures at state fairs nationwide since the 1920s. Although no one seems to know why—"good question," said a Land 0' Lakes spokeswoman—one thing is sure: They're popular.
Last August, Victor was working on the fair sculpture in Syracuse, N.Y, when the big Northeast blackout occurred. A frontpage headline in the next day's newspaper noted, "but the butter sculpture is saved."
By this past Wednesday, Victor had been sculpting for nearly 100 hours in the butter trailer. His wife, Marie Pelton, an artist herself who married into food sculpting, had joined him and they were tending to final details while they waited for the chocolate.
Nearby stood a jug of Hershey's syrup. If all else failed, maybe Victor could try that.
He didn't need to. That afternoon, Hershey's Jim Bew showed up, exuding cheer and, best of all, lugging 100 pounds of chocolate. It looked like gold from Fort Knox, each 10-pound brick stamped with "Hershey's—the chocolate that is pure."
"We'll be off and running in no time," Bew said, promising to stay "until the butter end."
He well knew the pressure that Victor was under. Last year, he was on the team that built the world's largest Hershey's Kiss —nearly seven feet tall and 6,754 pounds in New York.
Never mind that no one was sure at that point whether the paint technique for coating Hershey would actually work.
Bew plugged in a contraption to keep the chocolate at a liquid 100 degrees Fahrenheit, and Victor began to paint cow spots with a brush.
Late that night, with only about 12 hours to go before the unveiling, they filled the sprayer, held their breaths and aimed the nozzle at Hershey.
It worked.
They finished shortly before midnight headed for bed.
The next morning, Thursday, Victor was back, along with pooh-bahs from the dairy and agriculture industries, Hershey Foods Corp., and more.
They all made speeches— even Victor, who couldn't stop grinning. When the sculpture was unveiled, they applauded and called it the best ever.
And so, the butter forms will reign over an entrance corridor until the show closes next Saturday.
After that?
It turns out the butter can't be recycled or even fed to farm animals. With all the handling, it's considered contaminated. Workers will destroy it.
Victor opts for a Zen acceptance. "It's here today, gone tomorrow," he said with a shrug. "That's just the way those things are."
Contact staff writer Sandy Bauers at sbauers@phillynews.com
Victor crouches while he and Pelton paint the shape of Pennsylvania on the side of a cow. After the show, the figures will be destroyed. With all the handling, the butter is deemed contaminated.
Photo byBarbara L. Johnston, Inquirer Suburban Staff.
---
Labonte's No. 5 cheddar-car artist a 'fontina' of creative ideas
BY CHRIS DOW
Times-Dispatch Staff Writer
Nothing says NASCAR like 3,000 pounds of ripe cheddar cheese.
The American Dairy Association plans to capitalize on the link between America's favorite moldy milk product and the nation's most popular motor sport during this weekend's races at Richmond International Raceway.
The association's brie-zarre inspiration led to the commissioning of nationally known cheese, butter and chocolate artist Jim Victor to pay fromage to NASCAR by carving a ton and a half of Cabot cheddar into the shape of Terry Labonte's No. 5 Kellogg's car.
"A cheese car is always a good idea," said Janet Grubbs, program coordinator with the Southeast Dairy Association, attesting to the national organization's gouda intentions.
In addition to being able to cut the cheese, Victor lists an impressive resume that clearly qualifies him for his current muenster undertaking.
A graduate of the Pennsylvania Academy of the Fine Arts, Victor is currently a professor at both Rosemont College and Fleisher Art Memorial in Philadelphia.
His first foray into food art was in the1980's.
"What happened was, I was doing portraits of personalities – sculpture portraits for magazines and newspapers," Victor said.
Among those were busts of Jimmy Carter commissioned by New York Magazine and of Henry Kissinger for The New York Times.
"Then somebody asked me to do chocolate heads of Andy Rooney and Anne Miller," Victor said. His work bit the spot: "Rooney, he said he was going to give his to a hospital for people with diabetes."
Next came butter.
"There was an ad for a butter sculptor in the Harrisburg, Pa., newspaper," Victor said, recalling a call from a family member to inform him of the unlikely position—one clearly tailored to his qualifications.
He holds that position intermittently, as he faces yearly competition from Pennsylvania's other butter artist— yes, there are two, Victor confirmed.
"The first cheese I carved was last year," Victor said. He rendered Cheesasaurus Rex, 250 pounds of carved Kraft cheese, for the 2002 Hidalgo, Texas, Border Fest.
Since then, he said, 'We're cutting the cheese regularly here.'
Using heavy-duty, cutting tools, whittling implements and even good-old-fashioned cheese graters, Victor and his assistant, Jimm Scannell, planned to complete their project well in time for tonight and tomorrow's race fans, who will surely line up for a glimpse at what, for at least the duration of race weekend, is arguably the cheesiest thing about NASCAR.
The car will boast stunning automotive details rarely witnessed in a block of cheddar. Everything from lug nuts to many of the sponsor decals that decorate the No. 5 car will be dearly discernible, promises Victor.
The exhibit will be located just about smack dab in the middle of the vendor display area of the raceway, said RIR spokesman Keith Green.
"It's right next to the Army display, which is so huge you can't miss it," he said. He promised that the cheese display "will be refrigerated."
Proper refrigeration is obviously a significant detail when working in temperamental food materials that have a tendency to smell if left in the open air, Scannell said." You don't want it to start rotting, or it wouldn't be much of an attraction," he said. "I've heard of people who use real fish in sculpture—that's a problem."
Any way you slice it, admits Victor,"It's not fine art but it's something that gives people some enjoyment." (cont. on next column)

Imagine the pride of Jim Victor's parents when they read in the "Richmond Times-Dispatch" that their son was a "nationally known cheese, butter and chocolate artist" and that his latest commission was fashioning a replica of Terry Labonte's NASCAR racecar from a block of Cabot cheddar for the American Dairy Association. The car was on display at May's Winston Cup race in Richmond, N.C., to celebrate the appearance of Labonte's machine in "Got Milk?" livery. That's Victor on the right carving away with his assistant Jimm Scannell. Not quite full-size, the cheese car weighs 3,000 pounds. Jokes like "cutting the cheese" can be inserted here.
---
World's Cheesiest Car Unveiled
(CNN) He may not have won Saturday's Pontiac Excitement 400, but race car driver Terry Labonte has a distinction no other competitor can tout—a replica of his car made entirely out of cheese.
The American Dairy Association unveiled a large scale model car made out of cheese at Richmond International Raceway on Friday in Virginia.
It was modeled after Labonte's No. 5 Chevrolet and carved from 3,500 pounds of yellow cheddar cheese.
The car, which measures 5 feet high, 12 feet long and 6 feet wide, was made to support the new and cheesy paint scheme on Labonte's No. 5 Kellogg's "Got Milk?" auto.
Experienced food sculptor Jim Victor cut the cheese, so to speak.
"I am used to sculpting large objects out of butter, chocolate and cheese — such as celebrities and farm related figures — but I've never carved a race car," said Victor.
Celebrities Victor has been commissioned to depict in food sculptures include Mickey Rooney, Anne Miller and Robin Williams.
NASCAR and cheese fans alike can visit www.ilovecheese.com or www.kelloggsracing.com to see photos of the "World's Cheesiest Car" as well as the cheese paint scheme on Labonte's car.
The massive amount of cheese was provided by Vermont-based Cabot Creamery.
May. 6, 2003
---
(cont. from first column)
When the checkered flag waves at the conclusion of tomorrow night's Pontiac 400 there's one car that most assuredly won't be heading for the winners circle.
Instead, the car will make its way to the Richmond SPCA and, other local charities, where all 48,000 servings worth will be divvied up for distribution to hungry would-be pets.
Does Victor mourn his creation's doggie-dish fate? Absolutely not.
"Sculptors are used to building and destroying things a lot," he said. He noted that it's hard to claim the mantle of the starving artist when you shop for art supplies in the grocery-store condiment aisle.
Be assured, he said: "We snack all the time."
Ah the power of cheese.
Jim Victor, right, an artist from Philadelphia, creates a 1957 Harley-Davidson Sportster out of chocolate at Nestlé USA's Burlington plant.
Assisting Victor is Dorothy Pfundt of the company's applications group.
Sweet bike: Burlington Nestlé commissions chocolate Harley
BY PETE WICKLUND
Burlington Bureau
BURLINGTON – It's a safe bet that many Harley-Davidson riders have muttered "sweet" when viewing the two-wheeled products of one of Wisconsin's most famous industries.
This May, sweet and Harley will make another connection when Nestlé USA rolls out its chocolate centerpiece creation for ChocolateFest 2003.
Pennsylvania sculptor Jim Victor on Monday was doing the finishing touches on a chocolate replica of a 1957 Harley Sportster, which will be exhibited at the annual festival May 16-18 at the ChocolateFest grounds, located at Milwaukee Avenue (Highway 36) and Maryland Street in Burlington.
The chocolate Harley model was requested to tie into this year's festival theme, "Let the Good Tunes Roll," which pays tribute to Harley's 100th anniversary.
Victor spent at least eight hours a day for seven days working on the creation in a comer of the Burlington Nestlé plant, 637 S. Pine St. Since the early '90s, the 58-year-old sculptor has spent most of his art creation time working with foods like chocolate, butter and cheese.
A graduate of the Pennsylvania Academy of Fine Arts, it was Victor's busts of political figures that caught the eyes of the producers of the Broadway musical "Sugar Babies." They asked Victor to sculpt chocolate busts of the show's longtime stars, Ann Miller and Mickey Rooney.
" 'Sugar Babies' was the first time I worked with food," Victor said. "I didn't know it would become my living."
While this year marks the first contract Victor has had with Nestlé he is no stranger to ChocolateFest. He has made appearances there the past four years, doing on-site demonstrations for the festival committee. Previous carvings, tied to that year's festival theme, included a girl dressed for the prom and a train,
Once hired for this year's Nestlé job, Victor sent plans of his Sportster concept to the crew at the Burlington manufacturing plant, where items like Raisinets, Crunch Bars and 100 Grand bars are made.
In preparation for Victor's arrival, Nestlé employee Elbierto "Bert" Aguilar constructed a steel frame for the model's body and handlebars. The frame was placed atop a plywood platform. Around the frame, Nestle crews placed 1,700 pounds of Peters Chocolate blocks, which individually measured 10 inches by 18 Inches and were 142 inches thick,
Nestle employees Dorothy Pfundt and Randy Hoffberger assisted Victor with the project. They will also take care of the piece between now and the festival, coating the carved finished product with glaze and keeping it protected in a climate-controlled portion of the Nestlé factory.
Victor's sculpture includes Many of the details of the classic Harley Sportster, including the gas tank, engine and spokes. He says the project has been one of his favorite assignments.
On Monday, Victor was filling gaps in his creation with melted chocolate. "The nice thing about chocolate is, it sticks to itself so you can keep adding to it," he said.
Victor plans to return to Burlington for ChocolateFest to carve a sculpture for the Culver's restaurant chain and perhaps another on-site carving for the festival. Between now and then, he'll be working on a cheese model of NASCAR driver Terry LaBonte's car for the American Dairy Association. He said the car will be about three-quarters the size of an actual racer and will be displayed at a May 4 NASCAR race in Richmond, Va
Keith Ulicki, owner of Uke's Harley-Davidson in Kenosha, and Thomas Mahoney, president and CEO of Johnson Bank in Kenosha , check out a chocolate Harley at the Nestle plant in Burlington. The sculpture is modeled after a 1957 Harley-Davidson Sportster.
A sweet ride Artist carves Harley out of 1,700 pounds of chocolate
By MARY A DIEM
Special to the Journal Sentinel
A sweet chocolate blast from the past is roaring into Burlington's ChocolateFest in tribute to Harley-Davidson's 100th Anniversary.
To tie in with this year's "Let the Good Times Roll" theme, a full-scale 1957 Harley-Davidson Sportster has been carved out of chocolate by Pennsylvania artist Jim Victor. The cycle was crafted from 1,700 pounds of chocolate over a seven-day day period at the local Nestle plant and will be on display Friday through next Sunday at Burlington's ChocolateFest grounds on Highway 36 just north of downtown Burlington.
Victor is no newcomer to ChocolateFest, having created sculptures the past three years. This is the first time, however, that he has carved the featured chocolate creation.
"Peter Ferris (Nestle plant manager) had contacted me in November about doing the chocolate creation. He threw out the idea of the chocolate motorcycle and I thought it was a wonderful idea," said Victor, who remarked that although he had carved many vehicles, including a recent cheese sculpture of a NASCAR stock car, the ChocolateFest creation was his first motorcycle.
A visit to a motorcycle show in Las Vegas in December 2002 brought the project into sharp focus for Victor.
"I saw the show and decided on the '57 Harley," Victor said. "I like the '50s bikes because that's when I first saw these bikes and those are my first impressions from Marlon Brando and the Wild Ones."
"Another reason I wanted to do that one—it's a more compact bike, it didn't have big spaces in it between things. That's better to work with when you're carving a material like chocolate. I didn't want one of those bikes from the '60s where the wheel was like 10 feet out in front of the bike."
The resources Victor needed – detailed photographs as well as the opportunity to study the bike up close – were found at the show as well.
After the show, Victor prepared sketches and designed the armature – the base structure that would support the chocolate during and after carving – a major consideration for this project.
"Many sculptures can get away without an armature when you're carving, but a motorcycle cannot," Victor said. "You need this kind of physical support there because it's two wheels and it would just flop right over so we had to build some kind of structure inside to give it stability. It had to be firmly anchored to a base because I was going to be pounding away on it carving.
"I sent the drawings of the motorcycle to Nestle as well as the armature design and directions on how they should apply the chocolate onto the armature. They did an excellent job and had it all done so by the time I went out there, all I bad to do was carve it."
Victor has spent the past 20 years traveling the country creating sculptures in butter, chocolate and cheese, including likenesses of celebrities and a butter sculpture of a swimsuit model carved on television's "Ripley's Believe It Or Not" in July 2002.
It was a chunk of faux cheese that launched the Pennsylvania Academy of Fine and York Academy of Art graduate into the world of food-sculpting.
"I had done a likeness of a politician for the cover of Philadelphia Enquirer magazine. He was pictured as "The Big Cheese"—as a provolone cheese that was hanging with a bunch of salamis. It was totally fake, all plaster, color and wax, but it looked like a real cheese. People seeing that thought I did food sculpture."
Victor will be back at ChocolateFest later this week, this time to carve a chocolate image of Culver's mascot "Scoopy."
---